No. 0043
Learning imbued with Buddhist values
By
Johnny Brannon
Advertiser Education Writer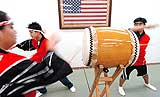 Hongwanji Mission School is a small school with a big world-view, where students learn in an environment that stresses traditional Buddhist values, such as community service and respect for others.
From left, Jenn Cabbat, Ryan Yamamoto and Josh Uehara, all 13 years old, learn the art of taiko, the Japanese drum. The Japanese language is taught to all students at Hongwanji Mission School.
Jeff Widener • The Honolulu AdvertiserThe school, tucked away on the 'ewa side of Pali Highway at the end 'Iliahi Street, welcomes students from all religious and ethnic backgrounds, from preschool age to eighth grade.
HMS began as a Japanese Buddhist school, but now most of its students follow other religions, though many have grandparents or great-grandparents who are Buddhists, principal Lois Yasui said.
"We're not here to indoctrinate or convert anyone to the religion," she said. "We teach universal values, and stress acts of kindness, things that happen on a day-to-day basis. We want our students to think of compassion, and to help other people."
The school is academically strong, but its goal is not to develop elite students, Yasui said.
"We work to develop the whole child," she said.
Hongwanji Mission School students decorate boxes for an upcoming fair. The school has an enrollment of 314 youngsters.
Jeff Widener • The Honolulu AdvertiserThat means encouraging artistic talents, understanding other cultures, and building strong ethical and moral values.
The school wants to let families know that it's not limited to students from Japanese families, said vice principal Theodora "Teddi" Yagi. But HMS also values Japanese culture, and teaches the language to all students, beginning with 3-year-olds.
The school has a diverse faculty, and language teachers are native Japanese speakers, Yagi said.
HMS is proud of its off-island study tours. The fourth grade goes on a four-day, three-night tour to the Big Island to learn about Hawaiian history and culture. Fifth-graders travel to the East Coast while learning American history, and visit Jamestown and Williamsburg, Pa., Washington, D.C., New York City, and Boston and Salem, Mass. The eighth grade visits a sister school in Fukuoka, Japan, and also visits the Hiroshima Peace Memorial and Park, Kyoto and Tokyo.